BioGenesis: Atlantean Glass Healing Tools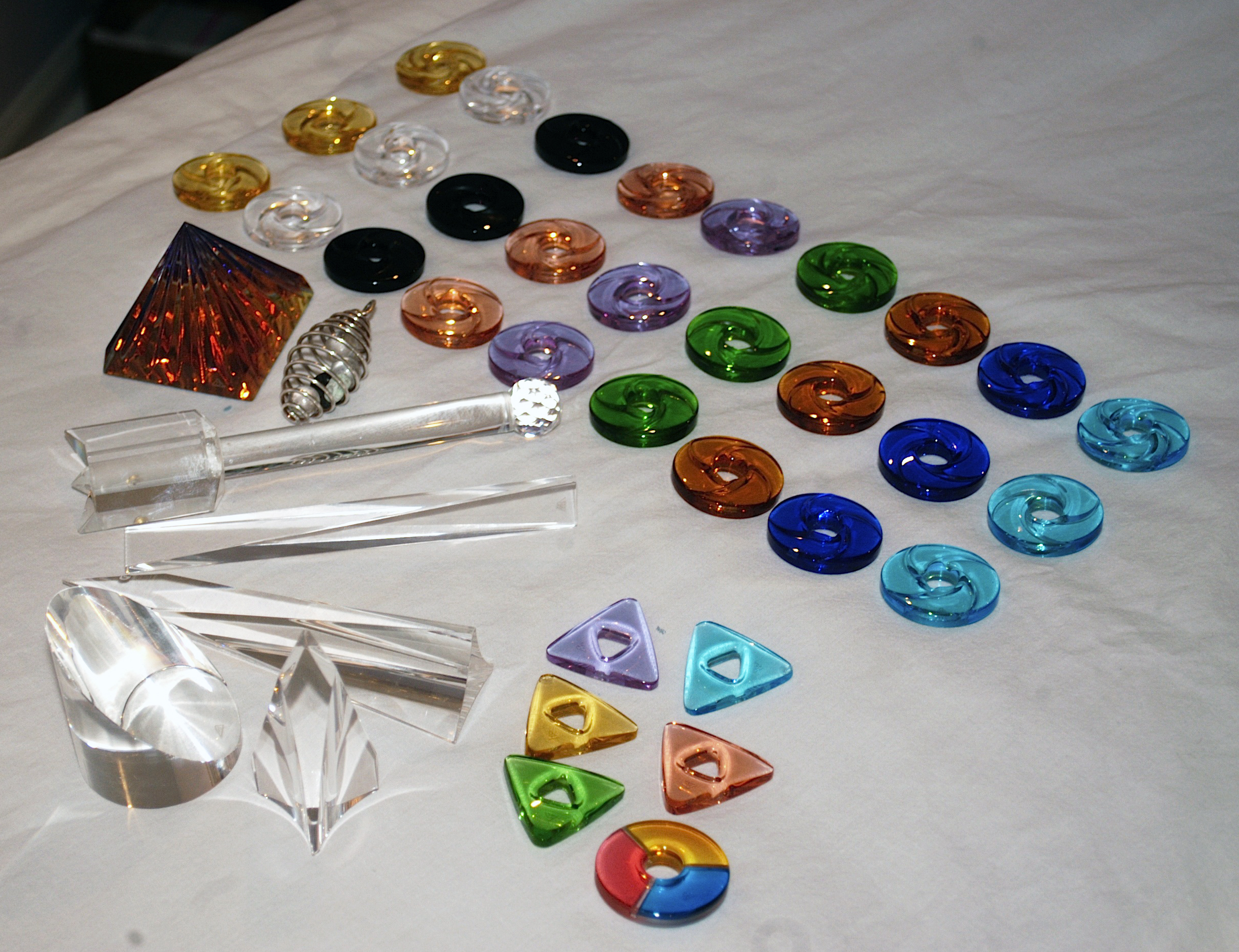 BioGenesis is a technology that is millions of years old, and was re-introduced to Earth in 1999 by an Atlantean Ascended Master, Lantos. The BioGenesis Tools helps restore harmony to all levels of your life, as well as your home, workplace and life.
BioGenesis involves a 100% pure white light energy or the Light of Creation, which is instilled into pure glass tools. These glass tools then radiate that energy to their environments. Each tool uses the same energy, but the design of the tools determines how that energy is to be used.
All BioGenesis tools hold the same Light of Creation energy. However, they come in different sizes, shapes: wheels, and pendants and different colors. Each particular shape and color determines which physical, emotional, mental, spiritual, or environmental factor that specific tool is meant to help.
During a session, you lie down on a massage table − fully clothed − and BioGenesis tools (particular to your needs) will be placed down the midline of your torso, forehead, arms and legs.Other BioGenesis tools will be swept across your "energy field" three inches above your body.
To learn more go to http://www.biogenesisglobal.com
Below is the list of BioGenesis tools typically used in a healing session:
BioGenesis Pyramid
Helps restore harmony and removes negativity from one's home and workplace.
8-Sided Pyramid
Helps restore harmony and removes negativity; also establishes a connection with Celestial Realms of Light.
BioOscillator
The Great Tool of Transformation; BioOscillator helps restore harmony to toxic conditions in the body and in the environment.
BioTranslator
Helps translate your desires.
Wings of Genesis
Assists in restoring harmony to the body's energy field. Place in water and drink the water daily.
BioTrinity
Helps enliven the Three Great Rays: The Ray of Knowledge, the Ray of Love and the Ray of Purity; helps offers an unrestricted vision, of one's path in life.
Flame of Genesis
Helps focus the Light of Genesis to help restore harmony within the body.
Genesis Pendant
Helps send out a beacon signal, saying "Come, enjoy the Light of Genesis."
Wand of Genesis
Helps provide support for many activities leading to financial success; helps manage stress and anxiety; helps restore harmony to emotional traumas.
Wheel of Hope
It is good idea to wear, particularly on days of great importance, test days for students, marriage ceremonies, etc.
Wheels of Genesis
The Wheels of Genesis hold the influence of the Great Celestial Sphere, cosmic energy pattern surrounding the Earth and helps bring about more harmony and balance to all energy fields in and around the body.
To learn more go to http://biogenesisglobal.com